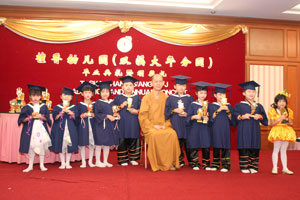 (Translated from Chinese Ezine Issue No. 108)
TASKA Than Hsiang BPS, the Than Hsiang Kindergarten Sungai Petani Branch ( 810-811 Jalan BPJ 3/15, Bandar Puteri Jaya, 08000 Sungai Petani, Kedah ) held its first graduation ceremony at Park Avenue Hotel in Sungai Petani on Saturday, 20 October 2007 at 2.00pm for the first batch of its students since it started at the beginning of this year. The attendance was overwhelming and the whole ceremony proved to be an encouraging success.
The National Anthem and 'Gems of the Buddha' were sung in respect of our country and the Lord Buddha. Venerable Wei Wu, the Abbot of Than Hsiang Temple warmly welcomed all those present. In his speech, Venerable Wei Wu said that the establishment of the Kindergarten Branch in Sungai Petani will continue to uphold one of Than Hsiang's Convictions of "The Young to Learn" and had marked the effort of Than Hsiang in striving to serve the community in Sungai Petani as well as to propagate loving kindness and Boddhicitta to improve the quality of human life.
Venerable Wei Wu added that t he location of this Kindergarten Branch is at Bandar Puteri Jaya, Sungai Petani and consists of two double-storied terrace houses. Continuous development is expected in the near future and more facilities will be added on to serve the community there. He also apologized for the unavoidable inconvenience during such expansion and thanked all for their trust and support given to the kindergarten.
The principal of Than Hsiang Kindergarten, Mdm. Tan Kim Nai, next delivered her speech. She informed that the establishment of Than Hsiang Kindergarten was initiated by our visionary Venerable Wei Wu in 1991 at Than Hsiang Temple with a humble beginning of 90 children. " In 2006, a branch was set up at Sungai Ara, Penang ," said Mdm. Tan, " followed by a second branch at Bandar Puteri Jaya, Sungai Petani in 2007. The total enrolment of Than Hsiang Kindergarten today stands at 550 children. "
"Than Hsiang Kindergarten is suitable for children ranging from the age of three to six years old. Half day and full day childcare services are also available and all children are placed in the reliable hands of experienced, committed and responsible teachers. The main objective is to teach and nurture the young generation holistically in all aspects such as moral, intellectual, mental, physical, social and aesthetic developments. Children are expected to be instilled with filial piety, respect for teachers and ethical values in their early stage of development. Than Hsiang Kindergarten shall do its best to review its educational system and adhere to the modern approaches from time to time and also to upgrade its facilities. This is to ensure the children will enjoy the most during their preschool years in Than Hsiang Kindergarten and to become well-balanced and responsible individuals."
Last but not least, Mdm. Tan thanked Venerable Wei Wu, Ven erable Zhen Xin and Bro. Chan Kean Teong for their unflagging guidance, and gave her appreciation for all the hands and hearts that assisted to make this ceremony a success. This was followed by the student representative's graduation speech, certificate and prize giving ceremony, singing of graduation song and some entertaining programmes of dancing, singing and sign language presentations by the truly gifted children of the Than Hsiang Kindergarten, Sungai Petani Branch and Sungai Ara Branch. These programmes were a delight to watch and made the evening enjoyable for the audience.
At the end of the graduation ceremony, all lights were turned off and the children lined up on the stage. Venerable Wei Wu then led in passing out the LED candles to the audience. The beautiful candle lights flickering in the dark in accompaniment to the song "Pass the Light (传灯) " made the whole scene a moving climax for the graduation ceremony.
Come and join us again next year!
Amituofo.