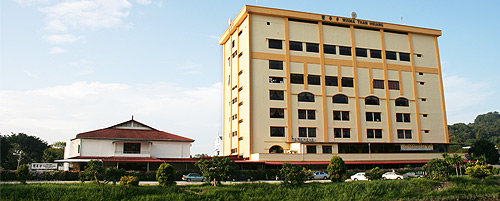 Than Hsiang Foundation was established in January 1990 based on the Conviction of:
• The Young to Learn,
• The Strong and Healthy to Serve,
• The Aged and Sick to be Cared For,
• The Departed to Find Spiritual Destination.
Than Hsiang Foundation depends on the generosity of the Buddhist community in carrying out its work of promoting Buddhist Education, Welfare and Cultivation. It is a non-profit organisation established with the main objective of preserving the true teachings of the Buddha and propagating the wisdom of the Buddha Dharma.
Since its establishment, Than Hsiang Foundation has carried out the following Buddhist projects:
• Education - Established Than Hsiang Kindergarten, Sunday School, Than Hsiang Buddhist Research Centre, Klintiendharm International Buddhist College.
• Welfare - Established Wan Ching Yuen Centre, Mitra Welfare Centre, Than Hsiang Free Clinic.
• Cultivation – Than Hsiang Temple holds:
• The Eight Precepts Cultivation on 2 nd Sunday of every month
• Chinese New Year Lamp Lighting
• Taking Refuge and Five Precepts Ceremony – 3 times a year, in conjunction with the Kuan Yin Pusa's birthday, renunciation and enlightenment
• Ching Ming Dharma Assembly
• Ullambana Festival
• Seven Day Amitabha Recitation Retreat (Fo Qi)
• Chanting of Amitabha Sutra on every Friday evening
• Amitabha Prayer for the Deceased
• Filial Piety Dharma Assembly
• Great Dharma Assembly
• Ksitigarbha and Kuan Yin Celebration Noon Offering and Evening Chanting
• Maha Sanghikadana
• Dharma Talks.
In line with promoting its education, welfare and cultivation activities, Than Hsiang Fund established branches at Tham Wah Wan Temple in Kuala Lumpur (1993), Klintiendharm (Than Hsiang) Foundation in Sadao, Thailand (1999) and Than Hsiang Kalyana Mitra Centre in Pajam, Negeri Sembilan (2003).