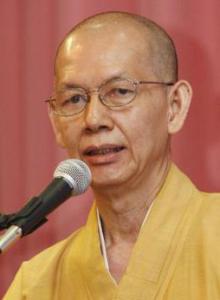 BUDDHIST educationists, leaders and members of Sangha and anyone who feels Buddhist at heart are invited to a seminar on August 4 at Than Hsiang Temple in Penang.
The seminar in both English and Chinese will enhance the understanding of Buddhism amongst the various traditions of the Buddhist community .
It aims to transform Buddhist followers into knowledgeable and confident devotees in service of the Buddha Sasana.
Participants will have the privilege of listening to experienced and renowned Buddhist scholars at the seminar from 8am to 5pm.
Venerable Wei Wu (pic), founder of the International Buddhist College and abbot of Than Hsiang Temple, will be gracing the event.
Among the topics at the seminar are 'Pure Land and Sarvastivada Schools' by professor Charles Willemen of Belgium, 'Bodhisatta Ideal in Theravada' by professor Toshiichi Endo of Japan, 'Cyclic Existence and Theory of Dependent Origination' by professor Kapila Abhayawansa from Sri Langka.
A talk on 'Textual Evidence To Prove The Buddha's Omniscience' will be held by professor Tilak Kariyawasam from Thailand.
Dr Faqing from China will speak on 'Tiantai Buddhism and its significance in modern times'.
The seminar will be held in conjunction with the International Buddhist College's 5th Convocation Ceremony which falls on the following day on August 5 at the Sadao campus in Songkhla, Thailand.
Closing date for registration is on July 31.
Participants will need to pay RM60 which is inclusive of a seminar kit, breakfast, lunch and afternoon tea.
A group registration of 10 persons will be eligible for 20% discount while members of Sangha will receive full sponsorship.
For details, contact Chew Suan Bee at 012-4296075 or Than Hsiang temple at 04-6414 822.