Submitted by zhenliang on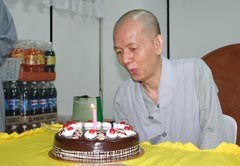 On 5 May 2006, the staff of Than Hsiang Temple gathered at the staff canteen to celebrate the anniversary of Shifu's Renunciation, Labour Day, Mother's Day, Teacher's Day, and Nurse's Day.
After the sumptuous meal, Shifu gave a talk to everyone present. He said that the month of May would be full of celebrations, namely Labour Day, Wesak, Mother's Day, Nurse's Day, and Teacher's Day. It would be a time to be grateful and a good opportunity for us to show our gratitude during these occasions by eradicating unskillful thoughts, words and deeds.
Shifu said he would remember his teacher, Venerable Master Xiu Jing (Siew Ching), every time before Wesak for teaching him the lesson of gratefulness. Shifu gave thanks to the canteen staff for preparing a fine meal and taught every one to recite "May all sentient beings be free from the suffering of hunger" as a way of transferring merit to others in gratitude. Shifu urged every one not to forget to cultivate gratefulness.
The second point Shifu raised was that we should learn the attitude not to waste anything. Shifu shared a lesson he learnt from his Dharma teacher, Venerable Master Bo-Yuen (Paik Wan). This teacher's clothing was full of patches. He would sew, patch and wash his "luo han yi". Shifu said we should learn from this wise, enlightened teacher. Shifu was happy to inform that the luo han yi he was wearing was first worn fourteen years ago. He said he had enough luo han yi to last him a life time so he requested the devotees not to give him any more luo han yi.
After his talk, Shifu was presented with a cake, which he ceremoniously cut. Those present then took turns to pay their respects to him and were each given a gift.