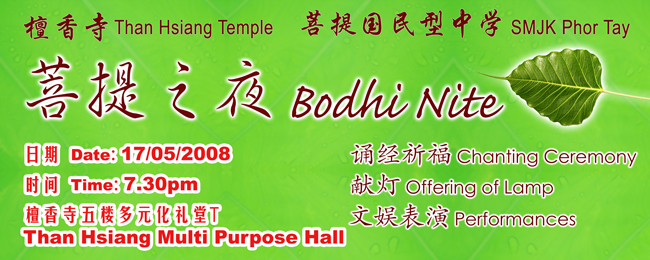 Than Hsiang temple in collaboration with Phor Tay High School and several Buddhist oganisations in the Northern Region will be organizing a Bodhi Nite celebration at 7pm in the evening of 17 May 2008 at the Than Hsiang multi-purpose hall. The night will witness the lighting 2552 led candle to commemorate the year of 2552 of the Buddhist calendar . Ven Wei Wu would like to appeal to all Buddhists to join in the celebration of this memorable and joyous occasion . Admission is free and participants are encouraged to join in the lamp lighting blessing ceremony . Students from Phor tay high school will also present a few entertainments programmes for the night.
Buddha day marks the triple celebration of Buddha's Birth , Enlightenment and Parinirvana . The ushering in of the Buddha year of 2552 with the flickering light of 2552 led candle will in deed be a spectacular sight not to be missed.
Ven. Wei Wu explains that in Buddhism , everyone has the opportunity to become a Buddha and it is hope that one will ultimately attain such a noble goal by diligently indulging in wholesome deed , practicing generosity and purifying the mind . "It is with such a motive in mind that the night was named Bodhi nite to remind us of the ideal of a Bodhisattva , while helping to raise fund for the relocation of Phor Tay High School ", he added.
During the night ,Ven. Wei Wu will be giving a Dharma talk and lead in the blessing and lamp lighting ceremony. We cordially invite all to attend and join Venerable in praying for peace , harmony and prosperity in the world.