Submitted by zhenliang on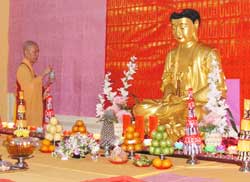 Once a year Than Hsiang Temple's doors are opened late at night – only on Chinese New Year's Eve. Thus on the eve of the Lunar Year of the Dog (28 January 2006), at 10.00pm a large group of devotees had gathered at the Hall of Great Compassion (Dai Bei Dian) to witness the Cleansing Ceremony performed by Venerable Wei Wu. Following this, the Chinese New Year Lamp Lighting Ceremony commenced with Venerable Wei Wu blessing all the donors.
After the commencement of the Chinese New Year Lamp Lighting Ceremony, the devotees, numbering more than three hundred, adjourned to the Main Shrine Hall at the sixth level for an hour of Buddha Name Recitation. This was followed by a dharma talk given by Venerable Wei Wu. In his talk, Venerable Wei Wu said that spring was normally the time farmers sow seeds so that they could harvest their crops in autumn. Similarly, one should 'plant good seeds' or cultivate the Buddha nature so that one could reap a 'bountiful harvest' of good karma. Venerable Wei Wu stressed that it was not good enough to just understand the dharma, one need to practise it according to the Five Precepts. He added that nowadays the emphasis was on material gains, so there was a greater need to spend some time for spiritual cultivation. Life is short but if one keeps cultivating in each lifetime, eventually, one would attain Buddhahood.
At the end of the dharma talk, Venerable Wei Wu gave out 'ang-pows' (red packets of monetary gifts) and VCDs of the Dharma to all the devotees present. It was well into the early hour of the Chinese New Year day when everyone departed after wishing each other 'Gong Xi Fa Cai'.