Submitted by zhenliang on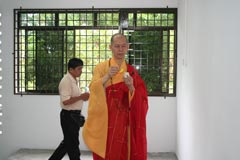 It was a pleasant drive to Than Hsiang Buddhist Centre (Chan Yuen) in Sri Rambai, Bukit Mertajam. Traffic was not heavy as it was a Saturday morning and the weather was pleasantly cool with cloudy skies. Sis Kang Sok Meng and Bro. Chan Cheow Khoon had left an hour earlier to set up the Bukit Mertajam Centre for the Cleansing Ceremony to be performed by Venerable Wei Wu. Venerable Wei Wu, Venerable Zhen Chan, Venerable Zhen Xin, and Venerable Hui Tze were in the Unser with Bro. Chan Peng Kan, Liew Wei Yong, who would be taking the pictures, and me.
We arrived at 9.30am and shortly after, everyone gathered at the hall to chant the prayers followed by Venerable Wei Wu performing the Cleansing Ceremony (Sa Jing) of the whole building. The building consisted of three stories. The ground floor had been renovated into a huge hall while the other two stories were still bare. After the Ceremony, Venerable Wei Wu and the other Sangha members sat down to tea with Bro. Chan Kean Teong and a few guests.
Bro. Chan Kean Teong was overseeing the Than Hsiang Buddhist Centre project in Bukit Mertajam. Although a busy man, he nevertheless unremittingly volunteered his time and energy to ensure the Centre was set up on time for the Cleansing Ceremony. The Centre would hold activities such as Dharma talks, Sunday School, meditation and chanting sessions. The Buddhist fraternity in Bukit Mertajam would thus have a place to go to for their religious cultivation and in time it is hoped the Centre would serve as the place to be at for all Buddhist activities and gatherings in Bukit Mertajam.