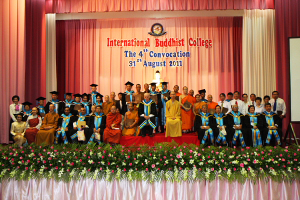 Story by Seow Heng Sun
Photos by Neoh Chee Jin & Ooi Chee Choon
The International Buddhist College held its 4th convocation at the main campus in Songkhla, Thailand on 31 August 2011.
The convocation started with the Triple Gem Eulogy which is followed by lamp lighting, before the rector Professor Charles Willemen declared it open for conferment of degrees. Venerable Professor KL Dhammajoti delivered the convocation speech on the subject of "Application of the Buddha's Teachings". He discussed the 'inherent danger' of distorting the Buddha's teachings resulting from the 'ultra emphasis on forcibly interpreting Buddhist teachings in terms of current frontier-appearing domains of ideologies' as what has been advocated by some 'modernist' Buddhists today. More than five hundred people attended the function.
Among the forty-seven students who received their degrees or certificates, there were twenty-eight Masters of Arts in Buddhist Studies, and five Bachelors of Arts in Buddhist Studies. Five students were awarded the Postgraduate Certificate in Buddhist Studies while the remaining nine were awarded other certificates.
There was also an indoor tree planting ceremony after the convocation. Venerable Wei Wu, chairman of the International Buddhist College council pointed out in his speech that the tree planting ceremony has four significant implications:
1. Our foreign guests present here today join our Thai friends to celebrate the 84th birthday of His Majesty, The King of Thailand with the planting of 84 special trees in IBC campuses. The Thai people are very fortunate to have a King who shows great compassion, care and concern for His people.
2. Many of the main events in the Buddha's life were related to trees. He was born under an Asoka tree; He gained enlightenment under the Bodhi Tree and chose to enter Parinirvana while lying between two Sala trees. When we plant trees in IBC today, we remind ourselves that our roots go back to the life and teachings of the Buddha.
3. Some of the most beautiful passages in Buddhist literature relate to trees. Asvaghosa likened spiritual practice to a tree with roots as resolution, boughs as awareness, flowers as virtue, and fruits as Prajna wisdom. So let us practice and develop all the qualities listed above while planting a tree.
4. The Buddha described a kind person as a great banyan tree growing on the side of a road that welcomes weary travelers with its cool shade that soothes their tiredness. There is a Chinese saying that "trees planted by one generation give unto future generations the cool shade to rest upon." Another well known Chinese proverb says, "It takes ten years to nurture a tree, but a hundred years to train a man."It reminds us that an educational cause is an undertaking that demands patience and persistence, because a sound education program may require a long time before it takes root. It is vital to have farsightedness. Your support for IBC through tree planting to promote Buddhist education is thus most meaningful.
Venerable Wei Wu appealed to the public for continual support for IBC.
Listed below are graduates who were conferred degrees and students who were awarded certificates after they had successfully completed their courses.
Master of Arts in Buddhist Studies (with distinction)
Dilokananda Sraman
Hoang Van Minh (Thich Thanh Huong)
Chow Mee Yeh
Hong Lu Lu (Fang Xiao Guo)
Ooi Chooi Seng
Ong Siew Yan (Sumangala)
Sokkhim Dim
Tan Yee Yong
Yap Pak Choong
Yew Sau Mooi
Ehalape Amaraseeha
Li Dan Ying (Shih Yan Miao)
Chen Pu Xu
Master of Arts in Buddhist Studies
Shantimoy Tongchangya
U Wayaminda
Vone Derndavong
Kanan Chakma
Khoo Teng Leong
Lee Ng Kim
Lim Chong Gnoh
Tan Say Heng
Nguyen Thi Ty
Dewalahandiye Somarathana
Le Thi Thuy Hang (Thich Nu Gioi Thanh)
Skalzang Dolma
Khat Chheang
Suliya Pewboualoy
Yen Yoke Wah
Bachelor of Arts in Buddhist Studies
Vanly Seng (First Class Honours)
Gunamuni Ruwan Prasad (Second Class Honours)
Bodhi Mitra Bhikkhu
Phetsamone Xaypanya
Shantimoy Tongchangya
Postgraduate Certificate of Buddhist Studies
Loo Mew Ling
Goh Mea Peak (Shi Zhen Ru)
Haw Sin Min
Soo Fong Seong
Fu Yek Ming
Certificate of Achievement
Chua Teck Seong
Ng Swee Inn
Ong Siew Lian
Pua Kaw
Quah Chi Boon
Tan Hong Tee
Teh Choo Siang @ Teh E Siang
Awardees of Outstanding Academic and Conduct Performance
Ooi Chooi Seng (Master of Arts in Buddhist Studies)
Vanly Seng (Bachelor of Arts in Buddhist Studies)