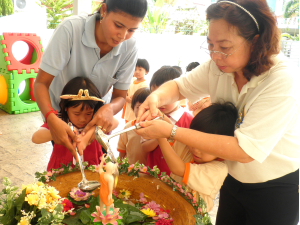 Buddha Day (also known as Wesak Day) falls in the month of May and is considered to be one of the most important celebrations for Buddhists.
This is the day that marks the birth of Prince Siddhartha the historical Buddha, the day he became enlightened and the day he entered Parinirvana. On this day, Buddhist devotees hold grand ceremonies in temples where they chant and pay homage to the Buddha.
The statue of the baby Buddha is usually displayed in front of the temple. It will be placed in a basin filled with fragrant water and decorated with flowers where the devotees are allowed to pour water over the statue. The act of pouring water over the statue is seen as a symbolic act of the practitioners of cleansing the three poisons: anger, greed and ignorance. The other significance of pouring water over the statue is to re-enact the event following Buddha's birth, when the devas and heavenly spirits showered fragrant water and petals on the baby.
We celebrated Buddha's Day on 9th May 2011 at Tadika Than Hsiang Permatang Pauh by organizing a Buddha Bathing Ceremony for our "little Buddhas" (our kindy children), parents and the kindy staff. Like last year, we celebrated the meaningful ad-hoc activity led by the venerable Sangha members from Than Hsiang Temple.
Venrable Zhen Ti explained that Buddha bathing was not to cleanse the Buddha as Buddha is pure and clean. Shifu reminded the children that the act was to cleanse themselves and to practise Good from the teachings of the 10 good deeds.
We would like to express our gratitude to the venerable sirs and Miss Fu for their co-ordinated efforts to make the event a success.
With Metta,
CF Lee
Than Hsiang Kindergarten (Permatang Pauh) Supervisor