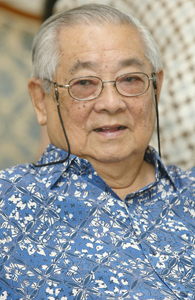 Let me steal some time off our retreat. I know that you are going through a tough period.
Sorry I was not able to spend much time and talk to many of you yesterday afternoon except Pao Yen.
Please take good care of yourselves and rest whenever there is an opportunity to do so. You had spent one month looking after the late Tun Lim and had been harassed by the media friends hungry for 'news'. (they are trying to do their job so please forgive them.) So many things are happening and it must have been very confusing. I would take up Chien Cheng's request at the Penang General Hospital to have a long chat with him after all of you have an opportunity to take a good rest after the funeral.
You should all feel very happy and proud to have a wonderful father / grand father / great grand father. He was our family doctor when he was not in active politics during his younger years. I was staying in Hogan Road, just behind your Macalister Road house. I met him after his retirement from active politics many times either in Tanjong Bungah house or at Than Hsiang Temple with the kind arrangement of Kok Aun. He never failed to amaze people with his energy, I always admired him for his physical and mental alertness despite his age. I always listened to him attentively and patiently. I know he can be a very lonely man because his mind is so quick and alert and some people are scared of him and keep a distance from him.
One should become a politician with the motive to serve the country and the people. The selfless service the late Tun Lim rendered to the nation earned him great respect by many sons and daughters of Malaysia. he is a rare and model politician. Our country will be better if more of our politicians follow his good example.
At a time like this, my duty is to share with you religious teachings. The late Tun used to talk to me on spiritual matters as well, i must say I might not agree with all his ideas on this subject!
These few days can be very confusing period for you in religious matters because you may not understand the meaning of all religious services being conducted. I must tell you that from Buddhist stand point, the late Tun is a man of great merit to have four Tibetan monks with him when he passed away very peacefully. All the religious prayers arranged by Pao Yen are very helpful to the late Tun.
Death is not the end of everything, all great religions in the world teach that life continues. The most important thing to note on religious services is for all of us to do whatever that will help him take birth in a good place. I am very sure that with the good merits he accumulated in his whole life dedicated to the selfless service of the nation and its people, he will take birth in the Buddha land of his affinity.
For yourselves, this is an opportunity to contemplate on the nature of life especially on death and impermanence. If you can gain insight of life, it will help you as well as your beloved late Tun. This was my purpose of sending you a copy of the teaching I used in our current retreat. If you think it makes sense, i can send you more.
We will continue to pray for him at our temple and transfer the merits of our retreat to him on Sunday.
In the meantime, please take good care of Toh Puan Lim and your good self.
with blessings,
Ven. Wei Wu