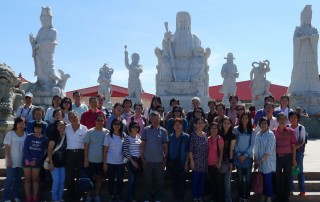 The second year of the "South-East Asia Traditional Chinese Medicine Academic Seminar of Hebei Province, China" was successfully held in Hebei province and all participants found it enriching and rewarding.
When the seminar ended on September 5, the participants traveled to Tianjin immediately. They arrived at Tianjin at about eight o'clock in the evening. Professor Yang Guang, Director of Ophthalmology at the First Teaching Hospital of Tianjin University of Traditional Chinese Medicine, hosted dinner for the participants.
Next morning at 8am, everyone was in the mood to learn when we visited Professor Yang at the hospital. Professor Yang gave us a tour of the hospital and also gave a lesson for us. Traditional Chinese Ophthalmology in China is very well-developed and advanced. Traditional Chinese Medicine (TCM) practitioners here can use the most advanced equipment when examining eye diseases and even use surgery for treatment. My eye was infected with pathogenic bacteria which caused the area below my left eye to swell and fester. I could not recover even after taking TCM for a long time but was totally cured after just a five-minute operation by Professor Yang; with that result, China's Traditional Chinese Ophthalmology deserves extra praise.
Due to the lack of time, we rushed to Beijing after lunch. Beijing is famous for being a "city of traffic jams", with five million cars commuting in and out daily. Upon arrival, part of the students stayed at Dongfang Hospital of Beijing University of TCM, to learn Traditional Chinese Ophthalmology from Professor Wei Qiping; the other students continued towards Shijiazhuang Village.
Professor Wei has been in Clinical Ophthalmology for 36 years and he is the fourth-generation successor of the Wei Clan Traditional Chinese Ophthalmology Academics, which is well-known in China. He is currently appointed at Dongfang Hospital of Beijing University of TCM as the Chief Physician in Ophthalmology, Professor, Supervisor of the Ph.D Research students and Beijing University of TCM Academic Committee member. He also specializes in using Integrative Medicine to treat various ocular surface and fundus oculi diseases, in particular a variety of optic nerve diseases and glaucoma diagnosis and he has a wealth of clinical experience with Integrative Medicine to obtain better curative results.
Professor Wei just happened to be conducting cataract surgery during our lesson and it was an eye-opener for all of us. Our students benefited immensely when they were taught by Professor Wei in the treatment of odd and difficult eye diseases. Professor Wei stressed that many eye diseases, such as retinal nerve disease, ophthalmic nerve atrophy and glaucoma, besides using Western medicine, TCM and acupuncture must be used to cure them. Thus, TCM and acupuncture plays a very important role in treating eye diseases. Professor Wei hoped that our students become proficient in Traditional Chinese Ophthalmology.
Next, we rushed to meet up with other students at Shijiazhuang. It was already 8pm when we arrived at Shijiazhuang and Assistant Professor Zhang Bin hosted dinner. Male students were arranged to stay with the hospitable Professor Zhang and female students were to stay at the Hebei Medical University guesthouse. However, when Mr Ye, Head of the International Department at the Science & Technology Association of Hebei Province, became aware of us being in Shijiazhuang, he made special arrangements for all seven of us to stay in a five-star international hotel. We were pleasantly surprised and flattered by the hospitality.
In the morning of September 7, we quickly had our breakfast, then Professor Zhang brought us to the TCM Hospital of Hebei Medical University, we were caught in the rain and were all drenched. Upon arrival, our four female physicians followed Dr. Wang Yangang to learn from him. Dr. Wang is a promising young man, who has just been promoted to Vice-President of the hospital, Director of the Second Branch of the Digestive System Department and Supervisor for the Ph.D Research students. Dr Wang told his assistant to take us to the Oncology Department to meet Director Liu Jingxuan.
Director Liu specializes in Medical Oncology. Many advanced cancer patients after their chemotherapy and radiotherapy, come to Director Liu for TCM herbal treatment. Director Liu is serious during consultation, careful during pulse-taking and has a lot of clinical experience. Director Liu stressed the importance of tongue diagnosis of advanced cancer patients; to know whether it is deficiency-heat or damp-heat, so that treatment can be provided according to syndrome differentiation. Later that day, Director Liu had out-calls to make, so he instructed his assistant to take us to have a tour of the wards.
There we happened to find Dr. Fan Huanfang giving an injection to a patient with abdominal swelling. We asked Dr. Fan whether the injection used TCM or Western medicine. Dr. Fan answered that both could be used, depending on which would have the best effect. Dr. Fan is an expert in Oncology and she is the Supervisor of Master students. After an in depth and long discussion with Dr. Fan, she still emphasized that strengthening the body resistance is the top priority when treating cancer with TCM, as all diseases are the processes and outcomes of the opposition between vital energy and pathogeny. Medicine that strengthens the body resistance can enhance the immune system, improve the function of endocrine and humoral regulation, improve the hematopoietic function, regulate metabolism and inhibit cancer cell growth. Strengthening the body resistance pertains to reinforcement; "treatment of deficiency-syndrome by reinforcement", nourish the vital energy when it is deficient and enrich the blood when it is deficient. There are many types of TCM to strengthen the body resistance, especially for terminal cancer patients, the use of TCM treatment can achieve timely results. Among the many types of cancer, liver cancer is the most difficult to treat.
On September 8, Director Liu had out-calls to make, so we visited Chief Physician, Director Fu Ruhua. Director Fu is the Director of Internal Medicine for Cranial Nerves.. Director Fu mainly uses acupuncture, primarily treating stroke, cerebral paralysis, facial paralysis, etc. Our visit coincided with Director Fu making his rounds at the wards. Director Fu uses severe techniques to insert needles into the scalp motor areas to provide strong stimulation, plus applying the Three-needle Mending technique to the Fengfu and Fengci acupoints, which he handled very skillfully and effectively; especially for stroke, cerebral paralysis, facial paralysis patients, the effects are even better. Due to a car accident, a girl had lumbar spine surgery, right thigh muscle atrophy and limited mobility. Director Fu personally gave the girl acupuncture, that strongly stimulated the scalp motor area and with the addition of the Fengfu Three-needle technique, the girl immediately stood up, moved freely, then smiled and expressed gratitude repeatedly. Director Fu's acupuncture techniques are the acupuncture skills that I dream of. That day, other than just witnessing the techniques in real life, we could also learn the brain acupuncture techniques, which made us wildly joyous.
During the evening of September 8, we caught a late train to Tianjin, in order to understand kidney transplant surgery. Tianjin First Central Hospital currently has the most modern equipment, the most experienced medicine staff in all central hospitals for organ transplants and had done over 1000 cases of liver transplants and more than 300 cases of kidney transplants. Currently, the hospital handles legitimate transplants between living relatives, which include spouse, lineal or collateral blood relatives of three generations. After a treaty is signed by both receptor (patient) and donor, the treaty had to be submitted to the Notary Department, reviewed by the Department of Ethics and finally approved by the Ministry of Public Health; going through many time-consuming procedures. But with the patients still young and their families pleading, the hospital just had to act on their behalf.
This medical learning trip to Hebei Province in China went very smoothly, students had clinical studies on Traditional Chinese ophthalmology, oncology and gynecology and had gained much in all three areas. Even harder to come by was the fact that the experts, who personally taught us, are Supervisors of Ph.D Research students in China's medical universities. We also found that medicine in China is well-developed and advanced, way ahead of the rest and a pioneer in the world. I am therefore very grateful to Medical Association of Hebei Province, China and Science & Technology Association for their facilitation in making our medical learning trip a complete success.