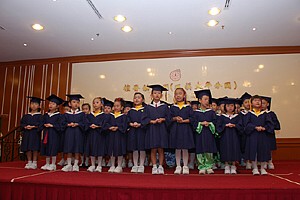 Tadika Than Hsiang and TASKA Than Hsiang 17th and 3rd Graduation cum Prize Giving Ceremony was held on the 2nd November 2008 at 2pm. Parents with their children and guests began arriving before noon, anticipating a memorable and joyful afternoon in witnessing the graduation and receiving of prizes of their love ones.
At 11am, when I was at the multipurpose hall making the final touch- up to the decorative works, many parents were already present inside the hall. They voluntarily helped me blow the balloons and took the initiative to help in any way they could. I was very touched by their helpfulness, and the fact that they have treated Than Hsiang as their second home and it was natural for them to chip in whenever they could.
In the mean time, in the made-up rooms, concerned moms turned instant beauticians and hairstylists, busy dolling up their children into starlets.
The Graduation Ceremony started at about 2pm. As usual, we began with singing of the National Anthem and the Buddha Gem song. Credits should be given to the graduates, who joined in the singing of the National Anthem and Buddha Gem song, unnoticed by the audience while waiting to receive their prizes at the backstage.
In his speech, Ven. Zhen Ru mentioned that besides providing the standard curriculum, Than Hsiang Kindergarten also emphasized the inculcation of morality, basic living skills and independence in the children.
This year our children's presentation featured many colorful and interesting programmes such as 'Prince Siddharta' , ' Bodhissatva With A Thousand Hands' and the multi-ethnic cultural dances , to name a few. Another captivating performance was 'The Riders Of The Little Wooden Horses', by the 4 year olds, displaying their graceful horse riding skills. Another dance that captured the Chinese New year mood was a musical rendition of "The Opening Of Red Door", reminiscing the ushering in of the new Spring season.
The finale of the day was the much awaited 'Passing On The Lights' ceremony led by Ven. Zhen Ru. It was a spectacular sight to see the glittering and swaying of the red light in the dark. It was the light of wisdom and compassion, giving untold joy and solace to all present.
The ceremony ended at around 4pm. While we bid good-bye, we also look forward to another year of togetherness and best wishes to all the graduates in all their future endeavours.