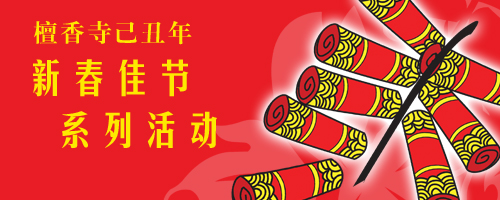 The Than Hsiang Bayan Baru center will be organizing a series of Chinese New Year(CNY) activities for 2009 namely (i) CNY lamp lighting, (ii) CNY eve chanting, (iii) CNY one day Amitabha Chanting retreat, (iv) CNY caroling and (v) CNY Buddhist celebration. We cordially invite all brothers and sisters in the Dharma to join us in these joyous events.
CNY lamp lighting will begin on the CNY eve till the 9th day of the 1st lunar month( 25/1/09 to 3/2/09) for 9 days. It is an opportunity for all to show our reverence for the Buddha and at the same time to pray for good health, safety and success. Lamp lighting is a meritorious deed as it symbolizes the unfolding of wisdom. Donation for a sum of RM 50.00 or any amount are welcome and will be channeled toward Phor Tay high school building fund.
CNY eve chanting will begin with the cleansing ceremony at 10pm, followed by a Dharma lecture by Ven. Wei Wu. The Venerable will also lead in the Buddha name recitation in tandem with the countdown to usher in the new lunar year.
CNY one day Amitabha Chanting retreat will be held on the first day of CNY ( 26/1/09) from 9am to 6pm. The activities comprise Buddha name recitation, circumambulation ,meditation, meal offering and a darma talk.
CNY CAROLING falls on the 3rd day of the CNY(28/1/09) .Than Hsiang temple will organize new year greetings or caroling to participating devotees' residence ( Penang Island only),. Kindly contact for further details---Tel: 04- 6414822.
Buddhist Chinese New Year Celebration—as in the past Than Hsiang temple, with several northern Buddhist organizations, will jointly organize the annual Buddhist CNY celebration on the 7th day of the lunar new year ( 1/2/09) from 2pm till 4pm at the auditorium of Phor Tay High School at Sungai Dua. The programmes include: lion dance, blessing ceremony, dharma talk, new year greetings and offering to Sangha members and presentation of musical performances. Light refreshment will also be served at the venue.
We look forwards to your participation and for enquiries, please contact
Tel: 04-6414822
Fax: 04-6421896
Addr: 132, Jalan Sultan Azlan Shah, 11900 Bayan Lepas, Penang.