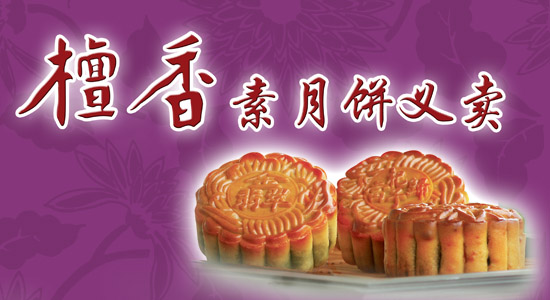 The Mid-Autumn Festival, sometimes referred to as Mooncake Festival or Lantern Festival is one of the few most important festivals among the Chinese. The festival is for lunar worship and moon watching where mooncakes are regarded as an indispensable delicacy on the occasion. Mooncakes are offered between among friends and relatives while celebrating the festival.
In conjunction with the celebration of the coming Mid-Autumn Festival, moon cakes (lotus seed and dou sha fillings) and gong zai biscuits will be sold at Than Hsiang Temple and its various outlets. Our Than Hsiang mooncakes are low-sugared and free of preservatives. The elegantly-packed box of two mooncakes is being sold at RM20 while the gong zai biscuit is priced at RM10 per packet.
We cordially appeal to the public to support the sale as the proceeds will be channelled to the IBC fund. When you buy the mooncakes for own consumption or as gifts, you are also accumulating merits by contributing towards the funding of the IBC.
The International Buddhist College (IBC) is situated at Khlong Ngae Town in Southern Thailand. It occupies an area of 110 hectare. The College gained official recognition from The Thai Ministry of Education in 2003, and is currently conducting BA, MA and PhD Buddhist courses in English. A branch campus had been set up in June this year at Korat Province, Northeast of Thailand. In July 2010, the College started a new MA programme in Early Childhood Education while the MA in Buddhist Study course is also being conducted in Than Hsiang Temple, Penang and Tham Wah Wan Temple in Klang Valley. Another innovative feature of IBC is the E-learning Programme which provides the opportunity of distant learning for those who are keen in Buddhist Studies.
For IBC to produce and groom more talents to continue propagation of The Dharma, your tireless and strong contribution will play an important role. Hence, your generous support during the season's sale of vegetarian mooncake is very much appreciated.
For booking, please contact Miss Tan at 04-6414822 ext: 2020
Than Hsiang Vegetarian Mooncake Outlets (9th Sept to 22nd Sept)
1. Pulau Tikus : Ching Huang Tea Garden 04-2278988
2. Sungai Petani : Puteri Jaya Kindy 04-4221184
3. BM Alma : Than Hsiang Kindy 04-5525184
4. Simpang Ampat : Than Hsiang Kindy 04-5888467
5. Butterworth : Seberang Jaya Buddhist Association 04-3976449