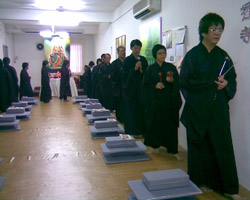 The Lay Sangha members together with members of the chanting group Than Hsiang Zang Yuan (THZY) organized a one day recitation retreat at THZY in Sg. Ara. Many who are not staying in the vicinity of Sungai Ara or Relau might not know of this centre which was in operation since 2006 when the Mitra Welfare Centre (MWC) moved into its new premises (THZY). Every Thursday, the centre conducts devotional chanting of the Amitabha Buddha Sutra and 88-Buddha Repentance on first Thursday of each month for the convenience of Buddhists and residents around the vicinity. However this was the first time that THZY holds such retreats.
In Buddhism, chanting is traditionally used as a means to prepare the mind for meditation and also as an invocative ritual to set the mind on a particular Buddha. This was an intensive Amitabha Buddha name recitation retreat held in conjunction with the monthly Lay Sangha gathering, it can be said to be intensive in the sense that there were no scheduled break or take-five in between recitations, sitting meditations, walking meditations and prostrations. There is however a short break after lunch. Brother Sanghasada gave a light and informal introduction to the retreat, starting with the basics on what to expect, the time table followed by demonstrating the correct way to perform bows, sitting meditation, walking meditation and prostration.
The morning session recitation was led by Brother Sanghasada and Sister Sanghavidassana while repentance prostrations and evening service by Bro Sangharatin, Sister Leng Keow and Sister Pooi Har and the afternoon recitation led by Sister Sanghavidassana assisted by Sister Sanghasobha. Brother Sanghaloka with his lovely and calming voice was assigned to be the backup all through the day.
The level of achievement or cultivation of the participants could be seen from their reaction in face of some hiccups for example the on and off malfunction of one of the cordless microphone and most importantly when they had to wait for quite a while before the OHP could be operated however due to some malfunction they had listen to Venerable Wei Wu's recorded Dharma VCD as the video image could not be displayed so the VCD became an audio CD instead. Lesson well learnt from this was impermanence and tolerance as well as acceptance or "bao rong" in Mandarin, a word that would lose its essence in translation. No one was agitated or showed any negative feelings; in fact all participants took these in their strike as if it was the norm.
It could be seen and felt that the retreat though not intended, tend to strengthen fellowship amongst members of Lay Sangha, chanting group of THZY and on the sideline it also turn out to be a get-together for Than Hsiang oldies as in old members who had been absent for quite some time. In short it was a gathering of the siblings of the Than Hsiang big family both young and old. The group may be small, merely thirty-one including runners, cooks and chanting leads plus two part-timers who could only join for a few hours due to other commitments. Nevertheless it was big in the sense of brotherhood, spirituality, involvement and dharmic joy judging from participants' feedbacks.