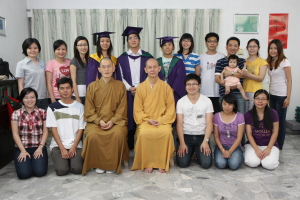 Than Hsiang Kindergarten 21st graduation and prize giving ceremony was held at 2 PM on 3 November 2012. It was also the seventh year for TASKA Than Hsiang Sungai Ara and the third for Tadika Than Hsiang Farlim. Parents with their children began arriving before noon, anticipating a memorable afternoon in witnessing the graduation ceremony as well as sharing the joys of their loved ones who were going to receive awards.
As early as 11.30 PM some parents with their family members were already present in the multipurpose hall which had been beautifully decorated with ribbons and balloons. The early comers enjoyed viewing slide shows of recorded activities of their children while waiting patiently for their little ones to be dolled up into starlets in the make-up rooms on the 1st floor.
The ceremony started at 2 PM. As usual, we began with the singing of the National Anthem and the Buddha Gem Song.
In his speech, Ven Zhen Ru mentioned that besides providing the standard curriculum, Than Hsiang Kindergarten also emphasizes on the inculcation of morality, basic living and independent skills of the children.
137 children received their scrolls and don with graduation gowns and mortars. They expressed their sense of pride with a graduation song.
The most excellent awards for the year 2012 went to Erwin Lee Jun Chern (K2 Love), Cheang Yan Ling (K2 Love), Yong Pey Ning (K2 Balsam) and Ashley Wei Jia Sing (K1 Bumble Bee).
The entertainment slot featured many colourful and joyful programmes such as the welcoming performance by children of 5-year category displaying their synchronized movements of sunflower gloves to the song entitled 'Mothers are Like Sunlight'. With the captivating performances like the Malay and Indian dances, the audience was able to judge the hard work and effort put in by the teachers and children.
The finale of the day is the much awaited 'Passing on the Lights' ceremony. Led by Ven Zhen Ru, it was a spectacular sight to see the glittering and swaying lights from LED lamps in the dark. It was the light of wisdom and compassion, giving untold joy and solace to all presents.
The ceremony ended at 4 PM. While bidding goodbye, we also look forward to another year of togetherness and once again best wishes to all graduates in all their future endeavours .
With the blessings of the Triple Gems, may all be well and happy.