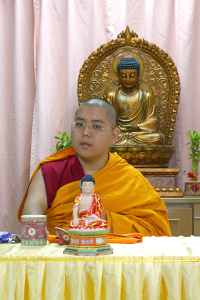 On December 3rd 2009, Venerable Wei Wu together with Bro. Chan and Bro. Ping Ken received His Eminence the 7th Ling Rinpoche and his entourage from Chokyi Gyaltsen Center. On the way to Than Hsiang Temple, Venerable Wei Wu took the opportunity to bring Ling Rinpoche and everyone else including Sister Annee, Sister Pek and Dr. Daniel Yeoh who is the director of the Chokyi Gyaltsen Center; to visit Than Hsiang Farlim center.
Ling Rinpoche arrived amidst a grand welcome by the Than Hsiang staff. Around 2pm, in the presence of Venerable Wei Wu and His Eminence 7th Ling Rinpoche, twelve Tibetan monks arrived and played their Tibetan Buddhist instruments in an orchestra of flute (basuri); the bell (ghanta); the hand bell (damaru); the tincha (cymbals); woden handrums (handle damaru) and two sided drum (dhyangro with sticks). Then Ling Rinpoche and his entourage concluded the session with chanting. The visitors also took a tour around the Than Hsiang Temple building.
At 3.00pm, Ling Rinpoche delivered a dhamma talk on "How to Generate the mind of a Bodhicitta". In his opening introduction, Ling Rinpoche gave a short recount on the meeting between him and Venerable Wei Wu and also His Holiness the Dalai Lama in India, a few years back. He remembered that Venerable Wei Wu had mentioned about the International Buddhist College in Thailand to His Holiness, who was very convinced and supportive of this project and Ling Rinpoche said he was very happy that the International Buddhist College project happened. Ling Rinpoche then led in a short prayer, as it is the Tibetan tradition to begin all dharma talks with a short prayer.
In his talk, Ling Rinpoche emphasized that it is very important for Buddhists and followers of the Mahayana tradition alike to develop Bodhicitta and how Bodhicitta can be developed.
After the dhamma talk, Venerable Wei Wu and Rinpoche exchanged gifts.
Then everyone proceeded for dinner before Rinpoche and his entourage departed for
Chokyi Gyaltsen Center to deliver yet another session of dhamma talk.
It was indeed a great blessing to be able to meet His Eminence the 7th Ling Rinpoche.
Amituofo