Submitted by zhenliang on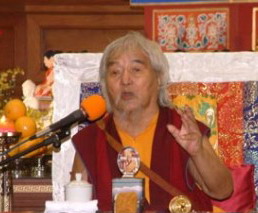 His Eminence Drubwang Konchok Norbu Rinpoche(1921-2007), dissolved his body-mandala into the great expanse of the Dharmakaya in Singapore on Christmas day at around 10 pm. Born in Drikung, Tibet, he entered Drikung Thil Monastery and studied Buddhist philosophy at Drikung Nyima Changra Buddhist Institute.He became the disciple of one of the foremost contemporary retreat masters of Drikung linage, Drubwang Pachung Rinpoche (1901- 1988) after graduation. The Most Venerable Drubwang Rinpoche underwent many year of retreat under the guidance of Drubwang Pachung Rinpoche. He went on many retreats and at one of his long retreat of ten long years , the Most Venerable Drubwang Rinpoche gained the supreme experiential understanding of Mahamudra.
At the advance age of seventy, he left Tibet and settled down in Northern India, spending most of his time in solitary retreat. His Eminence traveled widely to preach the Dharma.
His Eminence is well known for his generosity. He would always donate all the money and materials received for the welfare of the sangha or Dharma propagation purposes. He also stressed the importance of seeking refuge in the triple Gem and whatever we do must always be guided by the aspiration to benefit all sentient beings.
The Most Venerable Drubwang Rinpoche does not give tantric empowerments or lofty teachings on Mahamudra, instead he encouraged and inspired people to do the simplest of all dharma practice: extend kindness and recite: Om Mani Padme Hung.
Evidently His Eminence has great affinity with Than Hsiang ,for Rinpoche conducted several 100 Million Mani Mantra Recitation in Than Hsiang Temple for 4 consecutive year ( 2002 – 2005). In remembrance of the passing away of a great master, Than Hsiang Temple Penang , together with Tham Wah Wan,Temple in Kuala Lumpur and IBC in Thailand, concurrently held, the "Om Mani Padme Hum" chanting assembly on the evenings of 26th and 27th December 2007 .