Submitted by zhenliang on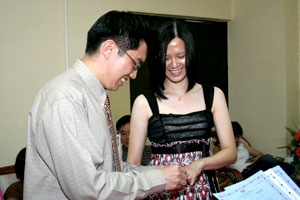 Eight couples tied the knot on the 7 July 2007 at Than Hsiang Temple. The marriages were solemnized by Mr. Khoo Kay Seang, the Assistant Registrar for Civil Marriage based in Than Hsiang Temple. While some believe that the triple digits of 7th day, 7th month and 7th year of the 21st Century signifies an auspicious day for marriage, others just picked the day as an easy date to remember for their wedding anniversary. One couple chose the day as it coincided with the bridegroom's birthday of 7/7/77 .
The ceremony began at 2.30pm and each couple went through the formal procedure of signing the marriage certificates in triplicates witnessed by friends or next of kin. The exchange of wedding rings followed the signing by all parties. "A wedding ring acts as a symbol of love and faithfulness. As you place it on the finger of your beloved, you commit your heart and soul to him/her. You wear the ring as a reminder of the nuptial vows you have spoken to each other" advised Mr. Khoo Kay Seang.
Words of advice were also given to each and every couple by Mr. Khoo on how to upkeep a happy and healthy married life. Mr. Khoo told the married couples, "Marriage is a life long commitment that needs mutual support and cooperation between two parties who vow to share and spend their lives together, for better or for worse."
The whole ceremony ended at 4.00pm . On behalf of Than Hsiang Temple, we wish all the couples a happy and lasting marriage. Together they will face all of life's experience and share one another's dreams and goals. May they forever keep their promise to be equal partners in a loving and honest relationship, for as long as they both shall live.
Amituofo.