Submitted by zhenliang on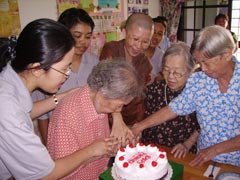 First, let me record my heartfelt thanks and deepest gratitude for being given the opportunity to participate in the Fourth Golden Age Retreat organized by Than Hsiang Retirement Home (Kajang).
The Than Hsiang Retirement Home (Kajang) stands serene amidst peaceful surroundings where invigorating fresh air assails incessantly. In addition, what strikes one most is the dedication and compassionate service rendered by the staff and volunteers alike. I certainly felt as if I had ascended to the Western Paradise … what a pity that some residents could still be caught in miseries as their physical illness got the better of them.
Ven Fa Yun's easy to grasp Dharma messages, expounded in her warm and comforting voice, soothed us as the dawning of spring; unsurpassable bliss showered upon us indeed!
The two lectures by Bro Guang Quan and Bro Loh further impressed upon me the inevitability of death, hence I would be in a better frame of mind and be more aptly prepared, lest I should lose my presence of mind when the moment arrives upon me some time in the future.
On a concluding note, the all-encompassing activities of liberation of life, birthday celebration and enlivening interaction proved to be most beneficial. Mere words are insufficient; my heart swells with inexpressible appreciation and gratitude! I do pray for future camps to be held in the Wan Ching Yuen Centre at the Than Hsiang Temple, Penang. How wonderful it would be for the Wan Ching Yuen folks to experience such a holistic experience indeed!