Submitted by zhenliang on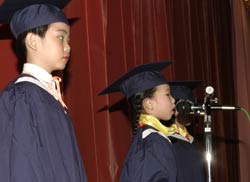 The Than Hsiang Kindergarten held graduation ceremony and annual concert on 22nd October 2005 in the Multi Purpose Hall of Than Hsiang Temple, Penang. The hall was packed with proud parents, grandparents and family members and friends.
The ceremony started with the singing of the National Anthem and Buddha Gem Song at 2.00 p.m. Before address the audience Ven Wei Wu and everyone present observed one minute's silence as a mark of respect to houour the passing of the late Datin Paduka Seri Endon Mahmood, the beloved wife of our Prime Minister.
In his address Ven. Wei Wu said that courses on pre-school education will soon be offered in the International Buddhist College. The venerable also encouraged Buddhist Organizations to set up kindergarten and said that Than Hsiang Temple would be pleased to share the experiences gained in the running of the Than Hsiang Kindergarten.
Principal Madam Tan Kim Nai said in her speech that busy parents who are unable to care for children either hire a maid or send them to baby-sitters. Such care-givers lack knowledge on child education and tend to let those under their care to spend hours watching the television or playing computer games. This might become a negative influence on their lives. Madam Tan also announced that the temple is starting Taska Than Hsiang in the residential area in Sungai Ara next year. The open day for Taska Than Hsiang is scheduled on 12th November 2005 from 9 a.m. to 3 p.m. and a colouring contest will be held on that day. Registration for kindergarten and day-care have start ed.
After the speeches, Ven. Wei Wu gave away the Best Internal and External awards. Present to give away the prizes include Ven. Zhen Xin the Superintend of the temple, Bro. Yew Cheng Keat, Bro. Ong Kong Leong and Sis. Chung Moy Ngoh.
The much awaited concert that includes dances, performances and singing followed the speeches by representatives of the grandaunts delivered in Bahasa Malaysia, Mandarin and English.