Submitted by zhenliang on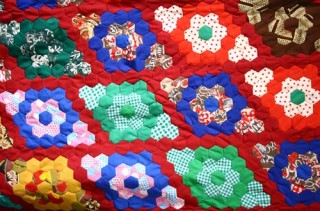 If you go to Wan Ching Yuen Centre, Level 2 of Than Hsiang Temple, you will find a large display case full of samples of handicraft work done by the senior residents of Wan Ching Yuen Centre. There are heart-shape and square cushions, cloth bags, bead purses, crocheted dollies, beaded tissue holders, knitted figurines, colourful fishes made from weaved ribbons, and large paper lanterns. These are some of the items the senior residents had produced during their handicraft sessions.
Every Friday, the handicraft session is held from 3.00 to 5.00pm. Mdm. Loke and Mdm. Teo are two dedicated volunteers who would appear week after week to teach and guide the senior residents in working with their hands to produce beautiful objects. The senior residents love these weekly handicraft sessions for they get to work with their hands and at the same time share their experiences and stories with each other, thus helping to enliven their sometimes drab and monotonous existence.
Some of the senior residents who had been good with some handicraft when young were able to impart their skills during these Friday sessions. Others used these sessions to share their problems and the rest in listening empathically help to elevate the mental depression and anguish of those with the problems. In truth, sometimes the handicraft sessions are also group counselling sessions without the intention of the originators.
The handicraft sessions had been on and off since the Centre first started and were not successful (mostly due to lack of dedicated volunteers) until Mdm. Loke and Mdm. Teo revived the handicraft session in the beginning of 2006. Their aim is to make life a bit more interesting for the senior residents and also to get them to do a little physical activity with their hands. With the obvious success of these handicraft sessions, both Mdm. Loke and Mdm. Teo noted that their aim had grown to encompass improvement of the spiritual, social, and intellectual condition of the senior residents as well.
This is well reflected in the residents' sense of achievement and joy when any item of their handicraft is sold. They have a sense of their worth and do not feel useless knowing what they had made with their hands had helped to generate funds back to Wan Ching Yuen Centre.
Drop by this Friday at 3.30pm and join in the handicraft session. Who knows, perhaps you have a story or two to share and learn a handicraft at the same time. Or maybe you will like to share your handicraft skill. Who knows? Just drop by and see for yourself.