Submitted by zhenliang on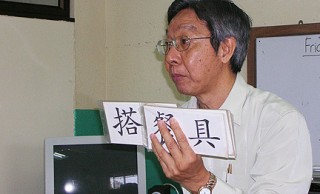 All About Our Trainer
Name: Mr. Tan Kek Chee
Profession: Retired Headmaster and Trainer
Previous Posts:
- Primary School Teacher
- Education Inspector in Central Kedah
- Key Personnel in Mandarin Language
Experience:
- Conducted KBSR curriculum training courses throughout Malaysia.
- Joined The United Chinese School Teachers' Association of Malaysia.
- Visited Beijing and Xia Men to survey Preschool Education there.
- Attended children counseling in Taiwan.
"Why do you want to be a kindergarten teacher?"
"Please share your six years of experience in teaching kindergarten children?
These were the questions forwarded to Mr. Tan Kek Chee, who is a very experienced educator (see above). Mr. Tan is currently training our kindergarten teachers on a voluntary basis. It is Venerable Wei Wu's vision that workshops and courses be conducted to introduce the correct preschool teaching method, not only to teachers in Than Hsiang but also to all interested kindergarten operators and teachers.
We are very grateful to Mr. Tan, who drives all the way from Sungai Petani twice a month to give valuable hands-on (both theory and practical methods) to our teachers so that they would be better able to nurture the children.
After much research with his team of educators on problems faced by students in higher education, they finally traced the problem to its source, which is poor teaching method in preschool education. A committed educator by nature, he now hopes to share his experiences and train as many preschool teachers as possible on the correct method of teaching.
Mr. Tan emphasized that teaching is important but knowing the correct method of teaching is more important . For children, learning is important but knowing the correct method of learning is more important. Children, taught by using the correct method, will absorb the correct method of learning and will develop positive learning attitude, which will take them very far in life.
We learnt that for children aged from two to six, the most appropriate method is to lay a sound foundation to develop the child's:
Listening skills
Oral skills
Reading skills, and
Lastly, writing skills.
Mr. Tan said that research found that children's visual and audio organs are well developed to absorb the first three skills. Writing is secondary as bone structure is still under-developed. When a child is forced to hold a pencil at this stage, it will affect the development of the fingers and he or she will make this error through out his or her life.
Teachers are reminded to use positive language in interaction and lots of encouragement to boost the child's confidence in the learning process. Mr. Tan told the teachers to allow the child to explore and look for his potential. It is crucial not to evaluate a child's academic achievements only but to take into account their physical and creative talents. Room must be given to every child for self-exploration and freedom to choose their own activities. Adults can help most by providing a conducive and safe environment and appropriate materials for the child.
Mr. Tan said he understands that most kindergarten operators and teachers were under parental pressure for lots of writing, homework and spelling. Some parents even resorted to changing centers when they compared the amount of written work given to the children were less than at another centre. By nature, parents are very concerned of their children's education. However, they have only a vague knowledge of using the correct method of teaching .
Parents who send their children to Than Hsiang Kindergarten are very fortunate, as Mr. Tan will go another mile to conduct Parental Skill Sessions for parents. Parents will be given useful tips on how to nurture their child.
Our first Parental Skills session will be as follows:
Title: How to guide your child in his homework
Venue: Than Hsiang Temple 5th Floor Multy Purpose Hall
Time: 10am - 11.30am
Closing Date: 06/03/06
Eligibility: Parents of Tadika and Taska Than Hsiang
Free Admission
Limited Seat
Contact: 6411184/6414822 Ext:2100 Ms Tan/Ms Low
Email: Kindy@thanhsiang.org