Submitted by zhenliang on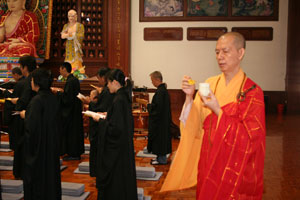 Friday, 26 January 2007 dawned on Penang like any other day, but to everyone at Than Hsiang Temple, it was a special day. It was the 8 th day of the twelve month of the lunar calendar and that day was the La Ba Day. A group of more than 40 laity (including staff and volunteers of Than Hsiang Temple) took the Ten Moral Precepts on this special La Ba Day.
The Ten Moral Precepts are:
1. To abstain from killing (harming living beings).
2. To abstain from stealing (taking the not given).
3. To abstain from sexual misconduct.
4. To abstain from lying.
5. To abstain from using harsh speech.
6. To abstain from slandering.
7. To abstain from idle speech.
8. To abstain from covertness.
9. To abstain from malice
10. To abstain from wrong views.
Venerable Wei Wu, the Abbot of Than Hsiang Temple, expounded on the Ten Moral Precepts before giving them to the assembly. He explained that the first three Moral Precepts are to make us mindful of our physical actions, the next four are for us to be mindful of our speech and the last three are for us to be mindful of the thoughts that arise in our mind. He said that if every one in Than Hsiang Temple were to make a commitment to observed the Ten Moral Precepts diligently, thus elevating significantly their morality, it would indirectly benefit the temple.
Later, after the dharma assembly, everyone partook of the La Ba broth. This broth contained eight ingredients of groundnut, barley, red date, lotus seed, ginkgo, dried lily bulb, red bean, and black bean cooked with brown rice and red glutinous rice. Bro. Lim Peng Theam served his sweet broth of glutinous rice with groundnut, lotus seed, dried lily bulb, red dates, dried longan, ginkgo, and sweet dates. Both types of broth were joyously consumed and there was even a trace of festivity in the air. There was definitely a big smile on the Abbot's face.
Amituofo.
~~~ § ~~~
Venerable Wei Wu's email message to all:
AMITUOFO,
TODAY IS A JOYFUL DAY AT THAN HSIANG. OVER 40 LAY MEMBERS INCLUDING STAFF AND VOLUNTEERS MADE A COMMITMENT TO OBSERVE THE TEN MORAL PRECEPTS. WE ALL ATE THE 'BUBUR LAPAN' 臘八粥 AND 'SWEET NASI LEMAK' 甜乳糜 AFTER THE NOON OFFERING TO CELEBRATE LA BA DAY! SOME OF US INCLUDING SHIFU ALSO ATE THE PENANG VERSION OF 臘八粥 (ASAM LAKSA)! ALL VERSIONS WERE EQUALLY GOOD FOR THE BODY AND MIND!!
THIS WILL HAVE A VERY BIG IMPACT ON THE THAN HSIANG FAMILY AND I HOPE TO BE ABLE TO GET MORE LAY MEMBERS IN PENANG AND OTHER BRANCHES TO MAKE THIS COMMITMENT. THIS WILL BENEFIT THEM IN A VERY SIGNIFICANT WAY AND IT WILL ALSO BENEFIT OTHER SENTIENT BEINGS. I HOPE THAT ALL WHO TAKE THE PRECEPTS WILL PRACTISE SILA, SAMADHI AND PRAJNA AND STRENGTHEN OUR SPIRITUAL PRACTICE INDIVIDUALLY AND COLLECTIVELY.
SADHU! SADHU! SADHU!
WEI WU