Submitted by zhenliang on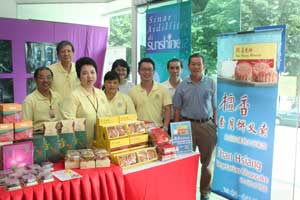 The Launching Ceremony of the Mid Autumn Festival was officiated by YB Dato' Wong Kam Hoong, the Deputy Minister of Culture, Arts and Heritage at the new wing of Sunshine Square on 9 September 2007 at 11.00am. The main event of the ceremony was the moon cake charity sales organized by Swee Hwa Supermarket in collaboration with numerous local and well-known moon cake manufacturers in aid of Than Hsiang Fund.
In his welcoming speech, Mr. Woo Swee Fatt, the Senior General Manager of Swee Hwa Organization thanked YB for consenting to officiate the launching for a very commendable cause. Mr. Foo Kee Jean representing Than Hsiang Temple thanked the organizer, Swee Hwa Supermarket and also briefed on the various activities of Than Hsiang Buddhist Welfare Association Malaysia. The Than Hsiang Buddhist Welfare Association Malaysia has under its wings three welfare departments namely, the Metta Mobile Free Clinic providing both traditional Chinese medical service and Western medical consultation, the Mitra Welfare Centre providing face to face as well as on line counseling and other welfare services and lastly Wan Chin Yuen Centre, catering to the aged and infirmed.
YB Dato' Wong mentioned that the Mid Autumn Festival being the most celebrated Chinese festival was listed among the six official cultural festivals in Malaysia. This festival, celebrated by all levels of society, is noted for its contribution in promoting unity and harmony among the various communities in the country. The climax of the event was the lighting of a giant mock lantern by YB Dato' Wong Kam Hoong, signifying the launching of the Mid Autumn Festival.
Than Hsiang Temple's own brand of moon cakes were also on display together with other brands, presenting many choices of moon cakes of varying flavours, shapes and colours. The public is encouraged to purchase the moon cakes at Sunshine Square during the Mid Autumn Festival as for the sale of each moon cake, 60 sen will be contributed towards the Than Hsiang Fund in aid of its charity work.