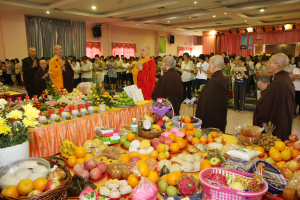 Venerable Wei Wu alias Shao Kai, abbot of Than Hsiang Temple whose secular name is Neoh Kah Thong of Fujian (Hokkien) ancestry, was born in Penang, Malaysia in 1949. He was ordained as a Buddhist monk in 1992 by Venerable Siew Ching, abbot of Buddha Light Vihara, Penang Hill.
Venerable Wei Wu is currently the abbot of Than Hsiang Temple, Than Hsiang Jing Yuan Sungai Petani, and Tham Wah Wan (Kuala Lumpur). He is the president of Than Hsiang Foundation. The Venerable is also the chairman in the board of directors of the Phor Tay schools and the honorary secretary of the Malaysian Buddhist Sangha Association. He is tirelessly engaged in welfare, cultural and spiritual activities. Due to his excellent work he is held in high esteem in the international Buddhist circle.
On April 29, Than Hsiang Temple held a dinner at the Phor Thay High School Hall from 6 p.m. to 9.30 p.m to celebrate Venerable Wei Wu's 20th Renunciation Anniversary.
More than 1,000 people including core members, benefactors, supporters, volunteers and former and current staff members of Than Hsiang Temple attended the private dinner.
Highlights at the dinner included a slide show of photos relating to Venerable Wei Wu's life and his Buddhist undertaking, a video presentation of Than Hsiang Temple in Mandarin, a presentation of IBC video in English, a solo performance of "We Are One Family" with hand gesture backing, an introduction to a Chinese ink painting by the internationally renowned artist Luo Tuo and an inspiring dialogue between Venerable Wei Wu and Brother Leong Kok Hing, the former president of the Young Buddhist Association of Malaysia.