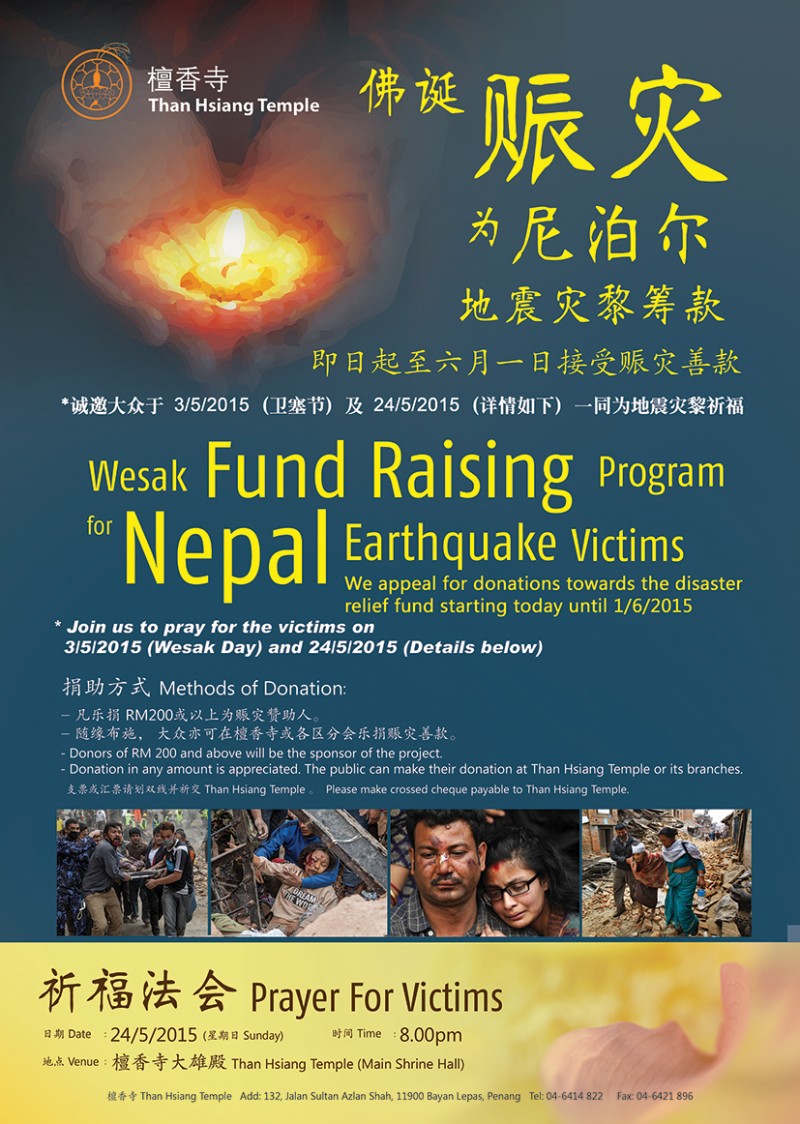 *According to the Sri Lankan Buddhist tradition, Wesak Day (commemorating the birth of the Buddha, his Enlightenment and his final passing into Nirvana) falls on the full moon day of May (3rd May, 2015, or the 15th Day of the Third Month of the Chinese Lunar Calendar this year). The Chinese Buddhists celebrate the birth of the Buddha on the 8th Day of the Fourth Month of the Chinese Lunar Calendar (i.e. 25th May, 2015).
*As Buddhists over the world are cheerfully preparing for the Wesak celebration, a 7.9-magnitude devastating earthquake struck Nepal on 25th April, 2015 (Saturday). The Nepal's worst earthquake in 80 years opened up large cracks in roads, and ruined many historic sites. The massive earthquake left thousands dead. The survivors are without shelters and in urgent need of food, critical necessities and medicine. We appeal for your donations to support the humanitarian aids for the victims.
*Starting today and until 1st June, Than Hsiang Temple is collecting donations to help relieve the earthquake victims during this hard time.
*We invite the public to join our prayer sessions on 3rd May, 2015 and on 24th May, 2015 to pray for the victims.
*Methods of Donation:
- Donors of RM 200 and above will be the sponsors of the fund
raising project.
- Donation in any amount is appreciated.
- The public can make their donation at Than Hsiang Temple or its
branches.
Please make crossed cheque payable to Than Hsiang Temple.
*Special Prayer For Victims
Date: 24/5/2015 (Sunday)
Time: 8.00pm
Venue: Than Hsiang Temple (Main Shrine Hall)
*We can be reached at:
(1) 04-6414822(Than Hsiang Temple, Penang);
(2) 04-4221184(Than Hsiang Jing Yuan, Sungai Petani);
(3) 03-79832290 / 03-79847942 (Tham Wah Wan Temple )