Submitted by zhenliang on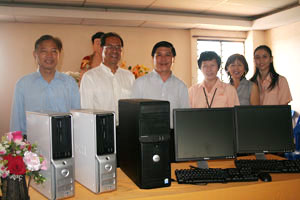 Recently, Wan Ching Yuen Centre embarked on a project to standardise its documents under the able guidance of Bro. Tan Eng Kooi, who is a professional consultant in such matters. It was deemed necessary to computerise this process and manage the documents under a Document Control System, which required a server and two desktop computers to work with.
Nibong Tebal Paper Mills very kindly offered to donate the required server and desktop computers and on 19 January 2007, Mr. Ooi Guan Hai, the manager of Nibong Tebal Paper Mills, presented the three PCs to Sis. Kang Sok Meng, the manager of Wan Ching Yuen Centre in a simple handing over ceremony.
After the ceremony, Sis. Kang Sok Meng took Mr. Ooi Guan Hai on a tour of the whole Than Hsiang Temple complex. Mr. Ooi ended up being impressed with what is being achieved at Than Hsiang Temple.