Submitted by zhenliang on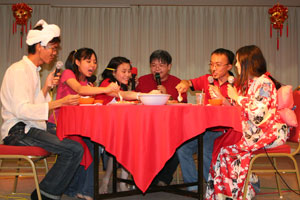 How does a menu of yellow butter rice with salted "fish", curry "mutton", "dim sum", honey "pork ribs", sweet and sour "fish", mixed vegetables, spring roll, 3 types mixed roll, "satay", and fried mee sound to you? Delicious? Sumptuous? Of course! And this excellent fare was set out in four long buffet tables for the guests who came for Than Hsiang's Reunion Dinner on Saturday, 10 February 2007.
By 6.30pm the Multi Purpose Hall at Level 5 of Than Hsiang Temple was filled to capacity with people happily tucking away the delightful food. It was a huge Reunion Dinner like no other. When everyone had finished eating, the Abbot, Venerable Wei Wu, went on stage to give a slide presentation of his recent trip to Bodhgaya for the "Buddhism and the 21 st Century" International Conference held there.
Venerable Wei Wu told the audience that he had just come back from Bodhgaya, India two days ago and would like to share his experience there with everyone present. Shifu went to Bodhgaya for the International Conference organised by the Ministry of Tourism & Culture of India in commemoration of the 2550 th Anniversary of the Mahaparinirvana of the Lord Buddha. He was accompanied by Ven. Zhen Ru, Ven. Zhen Xin and Ven. Hui She.
The Conference was opened by His Holiness the 14 th Dalai Lama and closed by Mahatma Gandhi's grandson, Arun Gandhi. Shifu said he would give a Dharma talk about what these two great persons said during the Conference on Wednesday,14 February 2007 and invited every one to come and listen to this talk. In his slide presentation, Shifu showed the various land marks of Bodhgaya, where the Conference was held.
After the slide presentation, Venerable Wei Wu presented Long Service Awards to the staff who had worked for more than five years. Two staff from Metta Welfare Association (North Malaysia), Sis. Cheong Siew Ai and Sis Tan Su Hua, had both worked for more than 18 years. Sis. Lim Cheng See had worked for Than Hsiang Buddhist Welfare Association Malaysia for more than 14 years with Sis. Kang Sok Meng following close behind at 11 years. In all a total of 29 staff were given this award.
Later, the audience was treated to a variety of entertainment programme. There were songs, dances and a sketch by the children of Than Hsiang Kindergarten, Wan Ching Yuen Centre's residents, Sunday School Youth Group, and invited guests. It was definitely a joyous occasion for all, with everyone enjoying good food, good company and good entertainment.
May you all have a Spiritually Fruitful New Year! Amituofo.