Submitted by zhenliang on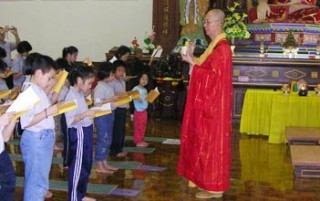 Up in the Main Shrine Hall of Than Hsiang Temple on a Sunday morning of 6th November 2005, seventeen boys and girls as well as their parents gathered for the Sunday School Graduation ceremony.
At the start of the ceremony, Shifu, Ven. Wei Wu, led the children and their parents in taking refuge in the Triple Gems and the chanting of the Five Precepts and the Ten Good Deeds. The children then gave presents to Shifu and the Ai Xin Mama and Baba. This was followed by the children presenting some songs with hand gestures. Those children born in the month of November then celebrated their birthdays by cutting a birthday cake together.
Later, Ven. Wei Wu preached to the assembly, explaining the meaning of the Five Precepts. He said that other religions also teach the concept of not doing evil and always doing good. The Lord Buddha, however, taught more than that; He taught the Path to Enlightenment. Taking Refuge in the Triple Gems is the first step towards following the Lord Buddha's teachings. Ven. Wei Wu also reminded the children to practice the Ten Good Deeds in their daily lives.