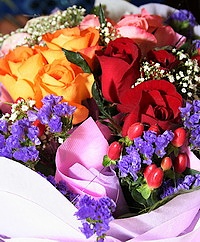 While Beijing kicked off the opening of the Olympic game on August 8, 2008-at 08:08:08 p.m., the auspicious date and time chosen for the 29th Game, couples tying the knots in Than Hsiang are joining thousands of people around the world looking forward to the good fortune promised by the eighth day of the eighth month of 2008. On such an occasion, not only Chinese couples who jumped on the eights, but others as well.
The number eight is auspicious in Chinese culture because the pronunciation of the number eight sounds like the word for prosperity. What is more if it is repeated three times. You increase your fortune and luck 3 folds. Eleven couple registered themselves at 10a.m. at Than Hsiang temple's main Shrine hall, making a life- time vow to share their lives together.
The Main shrine houses the majestic statue of Sakyamuni Buddha flanged by his leading disciples, Ven. Mahakasyapa and Ven. Ananda. One will enjoy a feeling of serenity during the midst of registration ceremony; thus giving the newly weds an added sense of confidence and peace of mind in looking forward to a blissful life in the future.
Bro. Tan Hong Tee of Than Hsiang Temple organized the marriage registration while Mr. Khoo Kay Seang, the registrar of civil marriage, officiate the ceremony.
The ceremony ended with the taking of group photo amidst congratulations by friends and relatives.