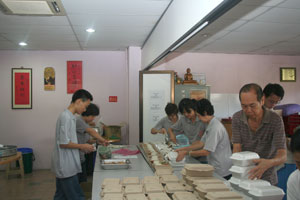 Weeks before the Ninth Lunar Month, a lot of preparation for the Vegetarian Food Festival was in place. Meetings were held, orders for special vegetarian cakes/biscuits and extra supply of vegetables were placed, volunteers were called in, and at Lebuhraya Batu Lanchang, a long row of covered walkway was erected for the stalls that would be set up there. There was even piped in water for washing the plates and dishes.
By the time the 1st day of the ninth lunar month rolled around, Than Hsiang Temple was ready for the nine days of Vegetarian Food Festival in a big way. There were the usual organic food set lunch and economy rice with 10 varieties of dishes to choose from. Most patrons took all the dishes as all 10 dishes looked equally appetizing. In the same area (ground floor Canteen) as the economy rice were Sar Hor Fun, Laksa, Curry Mee, Lam Mee, Fried Beehoon & Mee as well as a large variety of cakes, kuih, desserts, sweets, and fruits. There was practically no lack of any type of delicious food one could think of and want.
Up in the Multi Purpose Hall at the fifth floor of Than Hsiang Temple was the Buffet Lunch. The food here was equivalent to what you would expect of a buffet lunch in any well known restaurant as special chefs were brought in to help prepare the sumptuous food. As expected, the queue of patrons for the buffet lunch was long, as where else in Penang could one get an excellent vegetarian buffet lunch for RM10.00 only?
Down in the restaurant area, packed lunches were prepared daily in long rows much like a food assembly line in a factory. These packed lunches were dispatched to the nearby factories in the Free Trade Zone area and judging by the huge orders made for these packed lunches, a good number of factory staff was vegetarians for the full nine days.
Over at Lebuhraya Batu Lanchang, it was a veritable hawker complex manned by staff and volunteers of Than Hsiang's Wan Ching Yuen Centre. Whatever Penang hawker food you could think of was found there – and all were vegetarian dishes to boot! You would find the famous Hokkien Mee, Laksa, Curry Mee, Char Koay Teow, Char Hor Fun, Roti "Babi" and lots, lots more.
At Bayan Baru Sunshine Supermarket, the Than Hsiang Mitra Welfare Centre had set up their own unique stall selling Nasi Lemak, a large variety of cakes and desserts as well as souvenirs. They even had on offer their specialty of sand counseling. They also handed out leaflets informing of the many counseling services on offer at their centre.
The main idea of Than Hsiang Temple promoting so many types of vegetarian food in so many venues is to make it easier for the Buddhist community to take to vegetarian food and eventually become vegetarians themselves. Being a vegetarian is to put into practice the cultivation of compassion for all sentient beings. If everyone is a vegetarian, it would remove the necessity for the slaughter of animals for their meat as food. This would also remove the bad karma arising from having to kill the animals. All this can only lead to a more humane and compassionate society.
These nine days of keeping to a strict vegetarian diet is also a way of purifying one's body and mind. This is the time to be more mindful of one's thoughts, words and deeds and do one's best to cultivate the Buddhist virtues of loving kindness, compassion, sympathetic joy, and equanimity. In this way, one can surely remove the three poisons of greed, hatred and ignorance.
At the end of the ten days of Vegetarian Food Festival, Venerable Wei Wu, the Abbot of Than Hsiang Temple, expressed his appreciation of all volunteers and staff for coming forward to help as one big family. He said that first timers coming to Than Hsiang Temple for the Vegetarian Food Festival could see the congenial atmosphere in which everyone worked together. These first timers would thus feel happy to come and eat here again.
May all beings be well and happy. Sukhi hotu.
Amituofo.