Submitted by zhenliang on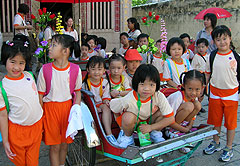 On 15 th April 2006, Than Hsiang Kindergarten organised a trip to the foremost heritage treasure in Penang, namely the Leong San Tong Khoo Kongsi. The pride of the Khoo clan in Penang was completed in 1906.
Today, the Khoo Kongsi was completely refurbished and restored with ornate carvings, gold leaf and tile shard works. It was a pleasure to behold the intricate and beautiful handiwork of the skilled craftsmen in the restoration of the Khoo Kongsi.
The Central Hall was guarded by two marble lions. The children had a fun time touching the "pearls" in the lions' mouths. It is said that touching these "pearls" would change one's luck for the better. The children were also captivated by the big Deities of the Four Directions. These are stone carvings from solid blocks of granite.
The children then went round the multimedia museum where the artifacts and photographs of the rich history of the Khoo clan are stored. In the museum, the children were intrigued by the numerous carvings and asked a lot of questions. Luckily Teacher Chiang was there to explain the stories behind the various carvings.
Luckily for the children, there was a beautifully decorated trishaw around on that day and the children took turns to have a joyful ride on the trishaw. Later, on the way home, the children had a stop at the Esplanade, where they partook some light refreshments and had a fun time at the playground.
All in all, it can be said the children had a grand time and learnt some history of Penang in the process.