Submitted by zhenliang on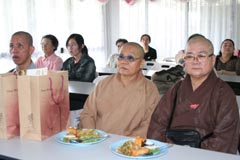 A group of three Sangha members and sixteen lay people from Taiwan paid a visit to Than Hsiang Temple on 5th August 2006. They were led by Venerable Chuan Yu, whose Venerable Master was the late Venerable Master Siew Ching.
Venerable Chuan Yu and her party went up to San Sheng Dian to pay their respects to the late Venerable Master Siew Ching, whose ashes were interred there. Later they were treated to a tea reception given by Venerable Wei Wu. During the reception, the group was shown a video presentation of Than Hsiang Temple and International Buddhist College with Venerable Wei Wu elaborating on certain parts of the presentation. After having tea of fried koay teow, nonya kueh, moon cake, fruits, and jelly, the party took their leave of Venerable Wei Wu to continue on their tour of Penang Island.
We appreciate Venerable Chuan Yu and her followers for dropping by at Than Hsiang Temple and hope to see them again for a longer visit.