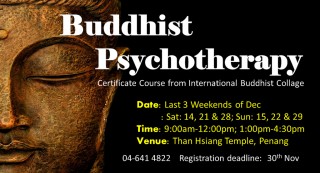 Latest Activities Dec 2013 Event
Buddhist Psychotherapy Certificate Course
Social Education
Our Aim
To spread the seed of love and happiness through social education activities
Activities
A) Marriage & Family
• Pre-marital Workshop
To assist the partner in having a good experience and to cultivate a reciprocal relationship through the two days' workshop. The Course content includes happy family concept, understanding each other and expectations of a married life.
• Matrimonial Enrichment Program
To assist the wife and husband to create an intimate and harmonious married life through group interaction. Course content includes married life pictures, married life health test, 'My Ice-berg', my original family, proper communication skills, handling conflict, and 'Love Deposit'.
B) Mental Health
• Family Link Mental Health Education Course
To provide social support for families of patients with mental illness and to help rebuild their lives. Course content includes "What is mental illness?", "Who can understand me?", "What is mental illness medication?", "Hanging precariously, treat yourself well", "Rebuild your life", "Recovery from confusion".
• Depression Support Group
To help the depressed release their negative emotions and enhance their problem solving abilities through group interaction.
C) Others
• Film-Shows Sharing
• Group-Reading Sharing
• Workshops
• Public Talks
• Intimate Relationship Interchange