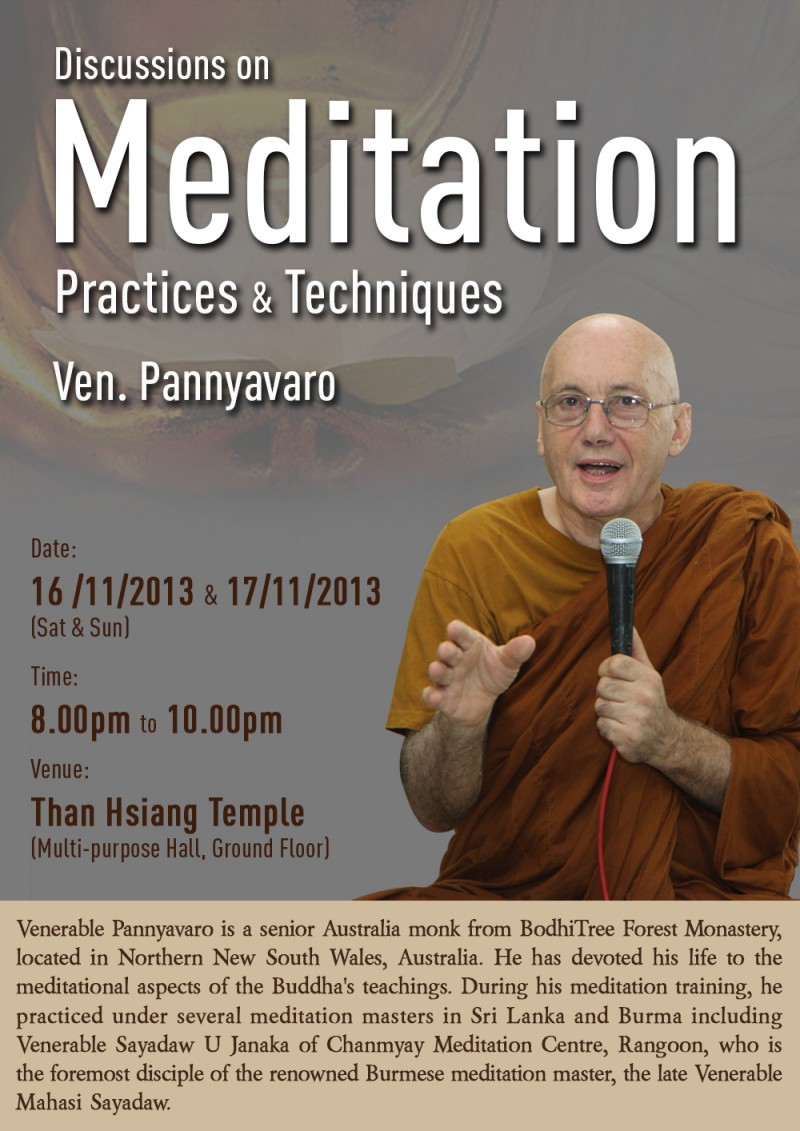 Venerable Pannyavaro is a senior Australia monk from BodhiTree Forest Monastery, located in Northern New South Wales, Australia. He has devoted his life to the meditational aspects of the Buddha's teachings. During his meditation training, he practiced under several meditation masters in Sri Lanka and Burma including Venerable Sayadaw U Janaka of Chanmyay Meditation Centre, Rangoon, who is the foremost disciple of the renowned Burmese meditation master, the late Venerable Mahasi Sayadaw.
Venerable Pannyavaro was involved in the beginnings of a number of the very early Buddhist communities in Australia. He later received full ordination at Wat Borvornivet in Bangkok under Venerable Phra Nyanasamvarva, the Sangha Raja of Thailand.
For the past 25 years, he has from time to time studied and practiced meditation in most of the major Theravada Buddhist countries, including long periods of intensive practice of Satipatthana-Vipassana meditation at the Mahasi Sayadaw centres in Burma.
As a Western meditation teacher, Venerable Pannyavaro naturally empathizes with the concerns and needs of meditators in their own culture, His long training and life experiences combine to bring a practical in-depth approach to the teaching of insight (vipassana) meditation in contemporary life.
Venerable Pannyavaro is the resident teacher with the Buddha Dharma Education Association at its centre at Surry Hills in Sydney and gives retreats from time to time at the Blue Mountains Insight Meditation Centre, Medlow Bath.
lf you would like to develop your meditation practice further with this teacher, please attend dharma / meditation discussion sessions with him at Than Hsiang Temple, Multi-purpose Hall, Ground Floor, Bayan Lepas, Penang on 1.6hI/20L3 and L7 /LI/2013 from 8.00 pm to 10'00 pm'